Giving Thanks For Giving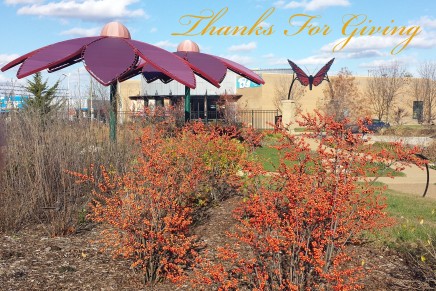 Sometimes when we see litter blowing across the street or a building tagged with graffiti, it's easy to get disheartened and forget how beautiful St. Louis really is.  Before you give up hope, take a moment to reflect on the good that is happening and let's remind ourselves about the ways in which St. Louis shines.
From the beautiful plantings in neighborhood green spaces, to the buildings no longer covered with graffiti and all the tidy streets and alleys in between, there are many ways to count the good that is happening across our city.
Thanks to Brightside volunteers and donors, we all enjoy a cleaner, more beautiful St. Louis. In 2015, over 25,000 volunteer hours have been invested in…
300 community clean-ups
Planting 3,330 native perennials, grasses, trees and shrubs in 41 Neighbors Naturescaping projects, including 34 new Milkweeds for Monarchs gardens
Planting 200,000 annuals and daffodils in public spaces across the city
Plus Brightside crews have cleared graffiti from 4,000 vandalized properties
None of this would be possible without the generous support of our volunteers and donors.  Brightside and St. Louis are giving thanks to you for giving!
We want to thank each and every Brightside supporter for your contributions that give so much to the entire St. Louis community.  Without your help, none of these things would have been possible.
So, thank you to the residents who organized their own alley clean-up, joined with their neighbors to plant a native garden, or reported graffiti on a vandalized property.  Thank you to all of the students and corporate employees who volunteered to pull weeds, pick up litter and plant flowers in neighborhoods across the entire city.  Thank you to the Master Gardeners and Master Naturalists who provided invaluable knowledge and direction for Brightside's Demonstration Garden and numerous community gardens.  Thank you to our Young Friends for your commitment to Brightside and for organizing many fun events.  Thank you to all of our partners who offer their time and expertise to educate St. Louisans about the various aspects of sustainable gardening and urban forestry.  And last but not least, thank you to all of our donors for your kind contributions which allow us to continue making St. Louis great.
Thanks to you for giving!
Want to keep giving?  Donate now!