Making St. Louis a cleaner, greener, better place to live!
Dedicated to cleaning, greening St. Louis since 1982
At Brightside St. Louis, our mission is to improve the quality of life in our community by educating, engaging and inspiring St. Louisans to make our region cleaner, greener and more environmentally sustainable.
From graffiti removal to our sustainable Demonstration Garden to the daffodils that sprout their blooms all around town, Brightside St. Louis is the city's oldest and most comprehensive nonprofit cleaning and greening organization. Check out our work to grow an even more beautiful St. Louis!
Brightside is funded through donations from individuals, companies and foundations and by a grant from HUD and the St. Louis Community Development Administration.
Join in Our Mission as a Volunteer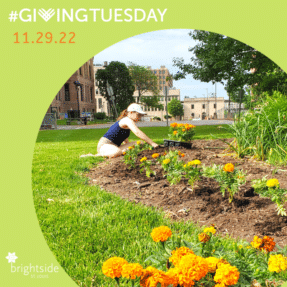 #GivingTuesday is Tomorrow – November 29th
Tomorrow, the world comes together for #GivingTuesday on November 29th, 2022.
We can celebrate this global day of generosity together!
Please support Brightside's clean-up and beautification programs this #GivingTuesday.  Donate your money or time or both:
A $100 donation to Brightside provides supplies for a volunteer workday. (More than 4,000 volunteers have already invested time with Brightside this year to improve St. Louis.)
Help keep your block litter-free!  Enjoy some sunshine and spend a few minutes picking up litter in your community.
Help a neighbor properly dispose of trash or recyclables.  (Call 314-772-4646 to learn more about bulk pick-up and our recycling database.)
Snap an #UnSelfie of any giving activity you do this #GivingTuesday to encourage others to join in.
Join the world in this global movement and act locally  — Give to Brightside!