Making St. Louis a cleaner, greener, better place to live!
Dedicated to cleaning, greening St. Louis since 1982
At Brightside St. Louis, our mission is to improve the quality of life in our community by educating, engaging and inspiring St. Louisans to make our region cleaner, greener and more environmentally sustainable.
From graffiti removal to our sustainable Demonstration Garden to the daffodils that sprout their blooms all around town, Brightside St. Louis is the city's oldest and most comprehensive nonprofit cleaning and greening organization. Check out our work to grow an even more beautiful St. Louis!
Brightside is funded through donations from individuals, companies and foundations and by a grant from HUD and the St. Louis Community Development Administration.
Join in Our Mission as a Volunteer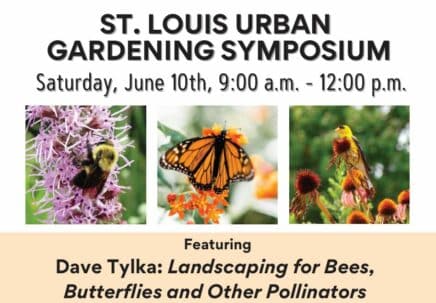 Join us Saturday, June 10th, 2023 for this year's St. Louis Urban Gardening Symposium located at Brightside St. Louis' Demonstration Garden at 4646 Shenandoah Avenue.
The symposium will feature special guest, Dave Tylka. You'll love how Dave shares his wealth of experience and knowledge as an educator, biologist , nature author and photographer!
Immediately after this special presentation, "Green Jean" Ponzi will discuss Mosquito Alert STL.
Following these presentations, three, 40-minute concurrent workshops led by experts in their respective fields will help gardeners learn how to plan, plant and care for a neighborhood or home garden or learn more about urban fishing opportunities. There will be opportunities to "Ask the MO Dept. of Conservation (MDC) Experts" and to purchase native plants after the workshops!