Making St. Louis a cleaner, greener, better place to live!
Dedicated to cleaning, greening St. Louis since 1982
At Brightside St. Louis, our mission is to improve the quality of life in our community by educating, engaging and inspiring St. Louisans to make our region cleaner, greener and more environmentally sustainable.
From graffiti removal to our sustainable Demonstration Garden to the daffodils that sprout their blooms all around town, Brightside St. Louis is the city's oldest and most comprehensive nonprofit cleaning and greening organization. Check out our work to grow an even more beautiful St. Louis!
Brightside is funded through donations from individuals, companies and foundations and by a grant from HUD and the St. Louis Community Development Administration.
Join in Our Mission as a Volunteer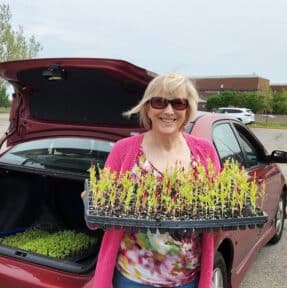 Flowers will be available for pickup on May 5th and 6th at the Greenhouse in Forest Park.
As part of our Blitz tool loan program, neighbors who register a cleanup or beautification project with us by May 1st can request FREE Blitz Blooms.
Simply request needed cleanup or planting supplies (brooms, shovels, rakes, trash bags, litter grabbers, trowels, etc.) at least one week in advance of your project through our simple online form.
Then, just check the box that says, "Yes, I want free flowers," to request your FREE Blitz Blooms (dianthus, marigolds, celosia and vinca) for planting in public spaces in St. Louis city.
Already got your request in? Awesome! Thank you for helping beautify St. Louis city.