Making STL a Better Place For All
For almost 40 years, Brightside has been committed to our core mission: make St. Louis a better place for all.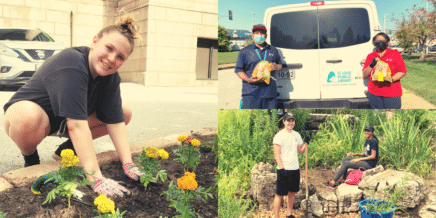 Here's how the generous support from more than 5,000 volunteers and hundreds of Brightside friends like you have improved the quality of life in our community this year:
Habitat restored for butterflies, bees and other pollinators at 20 neighborhood gardens by planting 1,870 native perennials, 419 grasses and sedges, 155 shrubs and 9 trees.
Green spaces enhanced across the St. Louis area with 120,000 flowers and 30,000 daffodils and tulips.
Graffiti removed from more than 2,500 vandalized homes, businesses, schools, churches and public spaces.
More than 10,000 trash bags filled with litter and debris.
Your support has proven critical to strengthening and improving our community.
Donating is easy! You can make a secure, tax-deductible donation online through the Brightside website via PayPal. Be sure to select "Pay with debit or credit card." Or, you can mail your donation directly to Brightside St. Louis, 4646 Shenandoah Ave., St. Louis, MO 63110.
Please know that every donation to Brightside directly supports our cleaning and greening programs to make St. Louis more beautiful and vibrant.
Thank you for choosing to support Brightside!