#GivingTuesday is November 29th
This event has passed. Be sure to check out our upcoming events.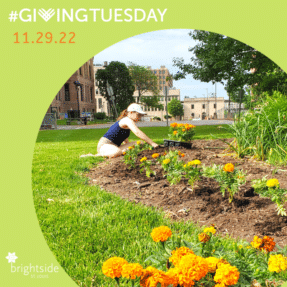 #GivingTuesday is Tomorrow – November 29th
Tomorrow, the world comes together for #GivingTuesday on November 29th, 2022.
We can celebrate this global day of generosity together!
Please support Brightside's clean-up and beautification programs this #GivingTuesday.  Donate your money or time or both:
A $100 donation to Brightside provides supplies for a volunteer workday. (More than 4,000 volunteers have already invested time with Brightside this year to improve St. Louis.)
Help keep your block litter-free!  Enjoy some sunshine and spend a few minutes picking up litter in your community.
Help a neighbor properly dispose of trash or recyclables.  (Call 314-772-4646 to learn more about bulk pick-up and our recycling database.)
Snap an #UnSelfie of any giving activity you do this #GivingTuesday to encourage others to join in.
Join the world in this global movement and act locally  — Give to Brightside!