Register for the 2023 St. Louis Urban Gardening Symposium Today!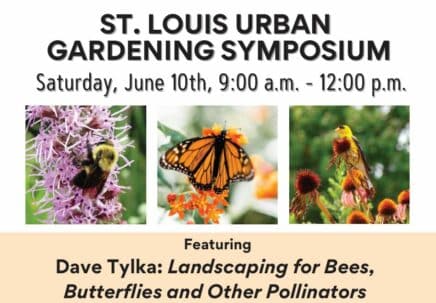 Join us Saturday, June 10th, 2023 for this year's St. Louis Urban Gardening Symposium located at Brightside St. Louis' Demonstration Garden at 4646 Shenandoah Avenue.
The symposium will feature special guest, Dave Tylka. You'll love how Dave shares his wealth of experience and knowledge as an educator, biologist , nature author and photographer!
Immediately after this special presentation, "Green Jean" Ponzi will discuss Mosquito Alert STL.
Following these presentations, three, 40-minute concurrent workshops led by experts in their respective fields will help gardeners learn how to plan, plant and care for a neighborhood or home garden or learn more about urban fishing opportunities. There will be opportunities to "Ask the MO Dept. of Conservation (MDC) Experts" and to purchase native plants after the workshops!