EXTENDED – Don't Wait! Order Your Bulbs Today!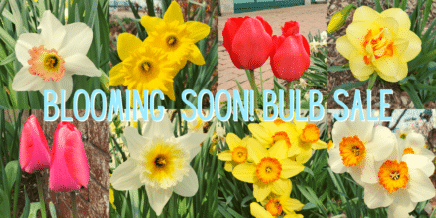 ORDER UPDATE: Holland has been experiencing significant flooding which delayed fall harvest of daffodils and tulips. 🙁 Good news, our daffodils and tulips are now on the ship from Holland. Unfortunately, they will not be in St. Louis for the early October pick up, as planned.
So that means new order pick-up times! Bulb orders will be available for pick up at the Greenhouse in Forest Park on:
Friday, October 15th from 11 a.m. to 6 p.m.
Saturday, October 16th from 9 a.m. to 1 p.m.
Can't make these times? Call Brightside at (314) 772-4646 to make special pick-up arrangements. If your bulbs will be shipped, expect them no later than October 25th. If you don't receive your order by then, please let us know.
More good news!  By mid-October, soil temperatures will be cooler which is better for root development before winter sets in. Even more good news, there is more time to order your daffodils and tulips although it is too late to order the Midwest Mix as those are all sold out! Thank you for understanding and supporting Brightside!
Brightside's Blooming Soon! Bulb Sale *EXTENDED THROUGH OCTOBER 8th!* Be sure to place your order for fresh and high-quality daffodils and tulips. Brightside's high quality bulbs, direct from Holland, are available to you at less than wholesale prices.
This year's selection includes:
Carlton daffodils – classic, bright and yellow
*SOLD OUT* – Brightside's "Midwest Mix" – a selection of 6 varieties of fine daffodils chosen by the Greater St. Louis Daffodil Society
"Brightside Red" hybrid Darwin tulips – exclusive to Brightside and the 'must-have' color for your garden
Pink Impression hybrid Darwin tulips – a soft, pink color that will be a sweet addition
It's easy to order online! (And while you're there, don't forget to add reusable Monarch Butterfly Bags and Flower Pot Mugs to your order!) You can also call the Brightside office (314-772-4646) today to place an order over the phone.
Choose to have your order shipped to you or pick them up for free at the Greenhouse in Forest Park on October 15th from 11 a.m. to 6 p.m. or October 16th from 9 a.m. to 1 p.m.
Remember, Brightside bulbs make great gifts for family and friends, too!
Thank you for supporting Brightside by adding our beautiful bulbs to your landscape! Proceeds from the Blooming Soon! Bulb Sale support Brightside's beautification and clean-up programs.