Give STL Day Extended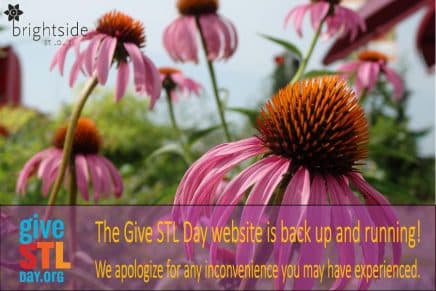 Thank you to everyone who took time to make a donation for Give STL Day.  Unfortunately, technology did not cooperate and many people were unable to complete the online giving form.  To give folks another opportunity to support the organizations they love, the St. Louis Community Foundation has graciously extended Give STL Day.  Donations will be accepted until midnight on Tuesday, May 3 and then again from 6:00am to 12:30pm on Wednesday, May 4.
The Give STL Day website is currently functioning, however, if you experience any technical difficulties, you can submit your donation by phone at 314-969-8655 or donate to Brightside via our own online giving form.
Here's how your donation helps clean and beautify St. Louis:
$10 = Keeps volunteers hydrated during a volunteer work day
$25 = Grows 50 daffodils in public spaces
$50 =  Fills 250 bags with trash from neighborhood clean-ups
$100 = Allows a neighborhood group to plant 1 native tree
$250 = Plants a neighborhood butterfly garden
$500 = Replaces 20 broken tools for our tool loan program
$2,500 = Sponsors an educational or storytelling workshop in our Demonstration Garden
$5,000 = Covers 75,000 square feet of graffiti with paint
$10,000 = Removes graffiti from brick and concrete for 6 months
THANK YOU for your donation to Brightside on Give STL Day!
Sponsors: